Lately, it seems like everyone is stumbling upon awesome late-winter citrus but me. Intensely-moist blood orange recipes are showing up everywhere, from Smitten Kitchen's blood orange olive oil cake to Rachel Manley's orange and almond cake. And gosh darn it, I wanted to make something amazing out of blood oranges too.



But sleepy little Washington, DC is evidently not a hub of citrus importation, because I checked out most of the markets in my area and could not find any blood oranges. I ended up settling for a plain old navel orange, and hoped I could make something delicious out of it.

After I saw the Rachel Manley recipe adaptation on d*s that included blood orange curd, I knew where I was headed. I ended up with a cake that was so good I made it twice. In one week.
Ground walnuts replace some of the flour in this cake, and ricotta replaces the milk that might normally be present. The result is a dense, not-too-sweet cake, complemented by thin layers of fresh-whipped cream and tart orange curd.
I will admit that the orange curd takes a bit of time and stirring. Ultimately, you have much more than you need for the cake—plenty left over for dollop-ing on individual slices or serving with toast and tea.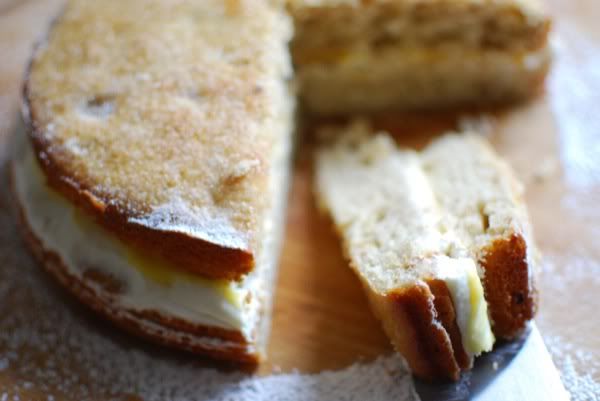 Not to mention, you'll have enough left over for the next time you make this cake. Which, if it disappears as quickly as it did at the Yellow House, will be in, oh, approximately three days.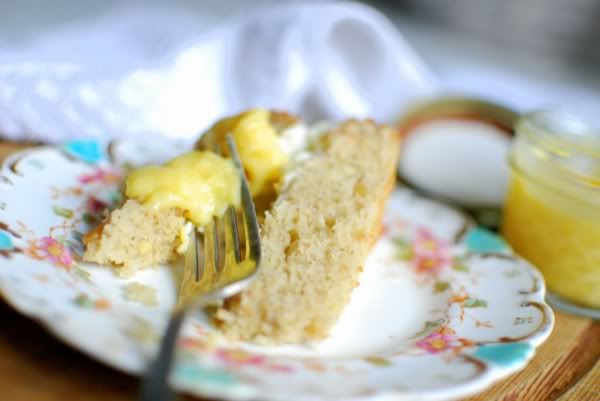 Walnut ricotta cake with orange curd & cream
Adapted liberally from Rachel Manley's almond yogurt cake.
You will need
For curd:
1 large navel orange, zest and juice
1/2 cup sugar
9 tablespoons unsalted butter, cut into pieces
3 eggs, beaten
For cake:
3/4 cup ricotta (2% or whole; I wouldn't use skim)
1/2 cup canola oil
1 cup sugar
1 1/2 teaspoons vanilla extract
3 eggs
1 1/4 cup all-purpose flour
3 teaspoons baking powder
Pinch of salt
1 cup walnuts, ground
For assembly:
Heavy cream
Powdered sugar (optional)
---
Directions
Orange curd:
Heat zest and juice, sugar and butter a double boiler over simmering water. Stir tuntil the butter has melted. Slowly whisk the eggs in and continue to cook, stirring very often, until the mixture begins to thicken, about 10 minutes. Don't allow it to boil, or it will curdle. Remove from the heat and allow to cool for 10 minutes; the mixture should thicken slightly. Pour curd into sterilized (boiled in hot water) jars, and leave to cool completely, then store in the fridge.
Cake:
Preheat the oven to 350ºF. Butter two 8-inch cake pans. Whisk the ricotta, oil, vanilla, and sugar together, then whisk in each egg until incorporated. Stir in the flour, salt, baking powder, and ground walnuts. Divide the batter between the two cake pans and bake in the oven for 25 to 30 minutes, until golden and the top springs back to the touch. Allow to cool. Whisk the heavy cream until soft peaks form.
Assembly:
Spread one of the cakes with cream, then carefully spread orange curd on top of the cream. Top with the other cake. If desired, dust with powdered sugar. Serve with an extra dollop of orange curd and cream.
§ 6 responses to Walnut ricotta cake with orange curd & cream